Sedation Dentistry at Chatswood Dental Associates
Have you put off seeing the dentist because of anxiety or fear? Please don't be embarrassed. This dilemma is an incredibly common problem. The good news is that options are available to help you have a relaxed and comfortable dental experience. Just acknowledging that you're frightened is an important first step!
Now that you know the problem, it's important to let us know. Just give us a call and talk to us! We're friendly, kind, compassionate and have helped people who were in your same position. We will listen to your concerns and ask questions to gain a better understanding of your anxiety so that we can recommend the most appropriate interventions.
Your Relaxed Dental Appointment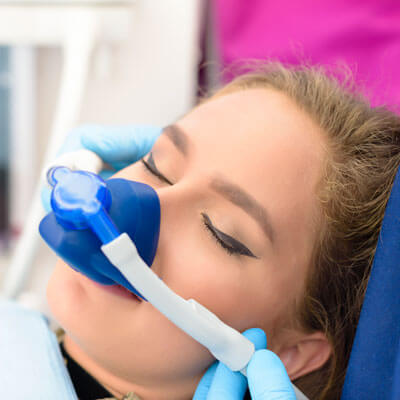 Maybe you never even thought a relaxing trip to the dentist was possible! We want you to know that it is. Every day here at Chatswood Dental Associates, we use a few different techniques to help make people comfortable:
First, we get to know you and understand your needs. Are you a big picture sort of person or do you want to know the details? Details like this will let us know exactly what to share and when.
We take our time and we'll let you know what to expect so you don't have to worry about surprises. If need be, we can plan your treatment in stages to make you more comfortable.
We offer a variety of anti-anxiety sedation options, including nitrous oxide ("happy gas"), oral medication and NuCalm.
If these steps aren't enough, we can discuss sleep dentistry as an option.
Sedation Dentistry Options
Nitrous Oxide – This safe and effective gas can help calm you down and dull sensations while we perform your treatment. The effect begins almost as soon as we place the nosepiece and it dissipates quickly after it's removed. Side effects are extremely rare but may include nausea. You will be fine to drive or return to work or school.
Oral Sedatives – Oral medications are taken shortly before your appointment and can make you lightheaded or sleepy. It takes longer for the effect to wear off, so you will need to bring someone to drive you to and from the appointment.
Sleep Dentistry – If you need to sleep during your procedure, we'll arrange for a specialist to come to the clinic and administer a sedative medication through an IV. You'll simply fall asleep and when you wake up, you won't remember the procedure at all! Like oral sedatives, you will need someone to drive you to and from your appointment and you should not operative heavy machinery or drive for the next 24 hours.
A Relaxed and Comfortable Experience
We're here to listen to your needs and help you have a low-stress dental experience. Contact us to learn more about your sedation dentistry Chatswood options.
* Any surgical or invasive procedure carries risks. Before proceeding, you should seek a second opinion from an appropriately qualified health practitioner.
---
Sedation Dentist Chatswood NSW | (02) 9412 4488