Cosmetic Dentistry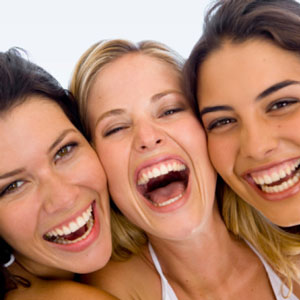 At our practice, we're happy to work with patients of all ages and walks of life to help them achieve the smile of their dreams through various cosmetic dental procedures.
A cosmetic treatment is designed to improve the appearance of your smile, be it achieving a whiter smile or straighter teeth, fixing gaps or reducing the appearance of your gums.
Our team of dental professionals has years of experience helping people achieve their goals when it comes to cosmetic treatments, and we can't wait to help you beam with confidence.
We encourage you to read more about our treatments below, and contact us should you have any questions.
Cosmetic Services at Chatswood Dental Associates
Facial Injectables
Have you been wanting to reduce the appearance of wrinkles on your face or replace lost volume in the cheeks or lips? Our dentists are trained injectors who can bring you results from the comfort of our practice. Learn more about your options >>
Full Mouth Reconstruction
Whether you've been in an accident that's left you with several missing teeth or you simply want to undergo a smile makeover, we're here for you. Our team is proud to work with patients to create full mouth restorations unique to your specific needs. Learn more about what it may entail here >>
Orthodontics
Have you always wanted a straighter smile? We can help you decide if traditional metal braces or Invisalign clear aligners are right for you. Discover more about both treatments here >>
Teeth Whitening
When you book an in-chair whitening appointment with us, you'll leave with a smile that's several shades whiter in just about an hour. Teeth whitening is generally pain free and lasts for months at a time or longer. We also proudly offer take-home kits with custom-fitted trays so that you can maintain your results at home. Read more here >>
Veneers
Ready to achieve a straighter, whiter smile quickly? With porcelain veneers, now you can. Veneers are designed to be placed on top of your natural teeth, consisting of a strong material that looks and functions just like a regular tooth. An ideal candidate for veneers may be someone with broken or chipped teeth, slight misalignment or gaps. Learn more here >>
White Fillings and Bonding
If you've got a cavity, visiting us to get out of pain is crucial. We're happy to use new and advanced white fillings in your cavity treatment. Unlike a metal filling, white fillings won't change in size due to the temperature of your mouth. With a metal filling, it's possible this size change can result in a cracked tooth. White fillings are also designed to match the natural colour of your tooth, so that no one will be able to see that you've had anything done. Read more about white fillings here >>
Frequently Asked Questions
Until we evaluate you in the practice and make our best recommendations for your treatment, it's difficult to know how much your care plan will cost. Rest assured, we'll always do our best to communicate payment honestly and effectively with you so there are never any surprises.
Yes! We're happy to offer a variety of payment plans for patients. If you'd like to learn more about them, please ask at your first visit.
Do you offer take home teeth whitening kits?
Absolutely. We understand that some people prefer to whiten their teeth at home or maintain their colour outside of the practice, which is why we're happy to offer take home whitening kits. Our take home kits offer a higher strength gel than that can be purchased in a supermarket, so results are typically much better.
I'm nervous about visiting your practice. What should I do?
We're happy to welcome nervous or anxious patients into the practice and look forward to helping you achieve your goals in oral health. We do offer sedation dentistry to aid with any dental anxiety that you may have, allowing you to comfortably sleep during your treatments. More information about our sedation dentistry option can be discussed at your consultation—we're happy to simply meet and talk with you before having any work done so that you feel confident and at ease.
Schedule Your Visit Today
We'd love to learn more about your goals in oral health and help you understand exactly how we can bring the smile of your dreams to you. If you have questions about our cosmetic treatments, please, contact us today to book a consultation.
We look forward to welcoming you to the practice and helping you smile confidently. Get started today!
CONTACT US
* Any surgical or invasive procedure carries risks. Before proceeding, you should seek a second opinion from an appropriately qualified health practitioner.
---
Cosmetic Dentistry Chatswood NSW | (02) 9412 4488