Clear Aligners at Chatswood Dental Associates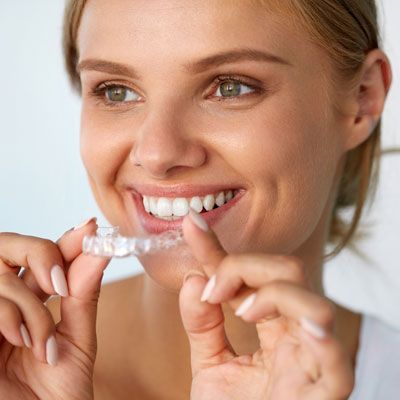 Teeth straightening has never been more comfortable or discrete, thanks to Invisalign® and other clear aligner orthodontic treatments. The customised, transparent trays fit snuggly around your teeth, using mild pressure to guide them into an ideal alignment.
Unlike conventional braces, clear aligners don't use any brackets or wires. The only feature that's occasionally utilised is small, tooth-coloured buttons (when a tooth needs a bit extra help bringing it into alignment).
Types of Clear Aligners
Invisalign is the most popular type of "invisible" braces. But other effective aligner brands are also available. Some of the more common alternatives include Angel Aligners, ClearCorrect and Truline. Depending on your unique concerns and smile goals, we can select from a range of brands to give you the results you're looking for. Just like other types of dental therapies, Invisalign isn't necessarily a one-size-fits-all orthodontic system.
Designed to Fit Your Situation
Everyone's smile is different. Some of us have more minor tooth alignment needs, while others are quite complex. With clear aligners, you're able to address everything from small aesthetic needs to more comprehensive treatment plans.
It may be that you've never had your teeth straightened and are starting to see the effects of crowding. You may have TMJ disorder, gum disease and irregular tooth wear. Or maybe you had braces in the past but experienced relapse as you got older. Whatever the case, Invisalign types of teeth straightening systems can help you put your best face forward.
Length of Treatment
The length of your clear aligner treatment will vary, depending on the complexity of your case. Some individuals only need to wear their Invisalign trays for 3-6 months, while others are 12-18 months. On average, the typical teeth straightening patient will only need about 6-8 months of clear aligner therapy. More complex cases can potentially require up to two years.
Wearing your aligners as directed will help ensure that your treatment is completed in an efficient manner. Changing the trays out as prescribed and wearing them long enough each day are the two most important steps.
Every Invisalign treatment begins with a comprehensive exam with our dentist. We'll gather various records and possible X-rays to screen for issues that aren't quite visible. From there, we'll use an advanced 3D intraoral scanner to record a virtual "impression" of your teeth. This tool contains special mirrors that allow us to replicate a 3D image of your teeth without taking gooey or uncomfortable impressions.
As long as your teeth and gums are healthy enough for clear aligners, we'll move forward with the next phase of planning out treatment.
Your digital models (3D scans) are uploaded into the simulation software. Here, they'll be adapted and turned into a video that allows you to preview your tooth movement and final tooth alignment. If there's something you want to adjust, we can do so in the software before your aligners are ever made.
There's even an option to re-scan and adjust teeth later on in your treatment. The versatility of clear aligners means you always have an option to adjust things as you go. They're extremely flexible regarding the type of outcome you want your treatment to achieve.
Since clear aligners are removable, there aren't many special steps you'll need to take throughout the day. Simply remove your trays when it's time to eat or drink (anything other than water) and then again you brush and floss. Rinse your mouth after eating and before putting your aligners back on your teeth.
Clean your aligners daily, as they can also collect plaque buildup and stain.
Never use hot water or store your trays in warm temperatures, as it could cause your aligners to permanently warp.
Your body has natural muscle memory. It likes to put things back where they were, even if they've been purposely moved. It's the same for your teeth. After clear aligners straighten your bite, your teeth will want to drift back to the place they were before. To keep things in place, you'll want to wear a retainer once treatment is complete.
We use two types of retainers; each one plays a different role. The first is a permanent wire retainer that we bond behind your front teeth. This sturdy retention device acts as insurance in preventing your teeth from moving back where they were. We'll also create a clear retainer that's removable and fits over your teeth.
Although more rigid than aligners, it looks fairly similar. Removable retainers need to be worn every night for about six months, and then about two nights per week thereafter. The key is to make sure everything is stabilised to protect your investment.
How long will I need to wear my aligners?

Most clear aligner systems need to be worn for a minimum of 22 hours per day. This time frame gives you a couple of hours to remove them as needed, during meals or to clean your mouth. Otherwise, they need to stay on your teeth.

Is Invisalign painful?

Clear aligners are essentially painless. Things move slowly enough that all you'll feel is a bit of pressure.

What if I don't have enough space to move my teeth?

Sometimes it's necessary to slightly polish between the teeth to create a little extra space for them to move. If so, we'll let you know before you start or commit to any treatment.

Do I qualify for clear aligners?

To ensure clear alignment trays are right for you, we'll want to first evaluate your teeth and take a series of scans. After we've completed the comprehensive exam and screened you for active decay or gum disease, we can let you know whether you qualify and approximately how long the process will take to complete.

Request an Invisalign Consultation
Adults and teens alike make great clear aligners candidates. Contact our Chatswood dental office today to schedule a consultation.
* Any surgical or invasive procedure carries risks. Before proceeding, you should seek a second opinion from an appropriately qualified health practitioner.
---
Clear Aligners Chatswood NSW | (02) 9412 4488