Dentures at Chatswood Dental Associates
Are you missing your natural teeth? It's okay. Millions are and you are not alone. Regardless of the reasons behind your tooth loss (which might include periodontal disease, decay or injury), dentures are often the right choice to restore your smile.
Types of Dentures
Different types of dentures are available and appropriate in various types of situations. Your dentist will sit down with you to discuss your needs and goals to provide a recommendation that's right for your individual smile.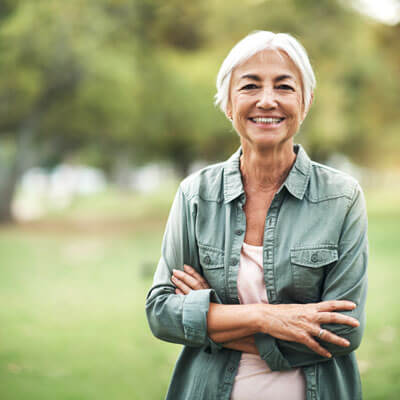 Conventional Full Dentures – Used when all the teeth are missing and the gums have healed (if extractions were necessary), full dentures have both advantages and disadvantages.Modern dentures look natural and fit more comfortably than ever before. Some people are concerned about the possibility them slipping, which is reasonable, particularly for dentures on your lower arch. If you're concerned, we can discuss dental implants to hold the denture in place and keep it stable.
Immediate Dentures – Unlike conventional dentures, immediate dentures can be placed right after extractions, without the need to wait. This alternative means you don't have to spend the healing time without teeth, something many people appreciate. Immediate dentures are often a temporary solution while a conventional denture is made. Since gums and bones shrink while you heal, it will be necessary to reline an immediate denture to keep it fitting properly down the road.
Partial Dentures – A "partial" is used when you still have remaining healthy teeth. They're used to help support an appliance. This design might be a good choice if only a few teeth are missing. The partial is held in place using clips that wrap around your neighbouring teeth.
Living with Dentures
After a short adjustment period, you'll find that life after dentures is not that different from before you had them. In fact, you'll probably be a great deal more comfortable since you no longer have to worry about painful, damaged, or missing teeth and can smile with confidence!
At first, your dentures might feel loose. This is normal. Soon, your cheek and tongue muscles will learn to keep the prosthesis securely in place.
In the beginning, you might also experience some irritation or soreness. Saline rinses can help relieve any discomfort and promote healing. Our dentist will give you specific guidelines to follow.
You'll want to keep your follow-up appointments. At these visits, we'll examine the denture and your gum tissue to make sure that everything is fitting correctly. If any problems persist past a few weeks, please let us know.
Dentures need to be handled with care. Brush and soak them regularly to keep them clean and fresh. Care for your gums as well. Over time, gum and bone tissue will shrink; we may need to eventually reline or replace your dentures. If you've noticed that your dentures are fitting differently than they used to, please notify us at once.
Modern Dentures to Fit Your Lifestyle
Is it time to start thinking about dentures Chatswood? We'll help guide you through the process and design dentures that will give you back your smile. Contact us today.
CONTACT US
* Any surgical or invasive procedure carries risks. Before proceeding, you should seek a second opinion from an appropriately qualified health practitioner.
---
Dentures Chatswood NSW | (02) 9412 4488