Orthodontic Care at Chatswood Dental Associates
The biggest misconception about orthodontic treatment is that it's only for children! The truth is that everyone deserves an attractive and healthy smile and orthodontics can help you achieve that – at just about any age!
What Are Orthodontics?
Orthodontics is the specialised field of dentistry that focuses on the straightening and alignment of teeth. Orthodontic therapy is completed using braces or other appliances such as clear aligners.
Another aspect of orthodontics is orthopaedics, which focuses on correcting jaw irregularities, such as over bites, under bites and cross bites. Many of the orthodontic options available today combine orthopaedic therapy with position correction for simpler, more streamlined treatment.
How Do Braces Work?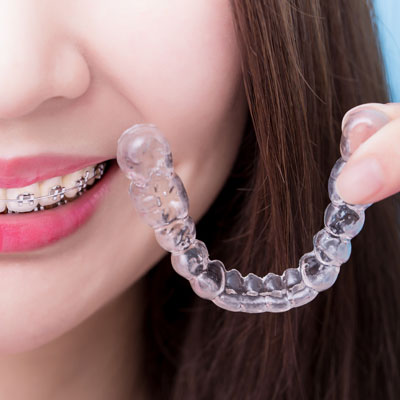 Braces and other orthodontic appliances work by exerting gentle pressure on the teeth in a carefully prescribed manner. Your dentist will create a customised program that maps out how your treatment will proceed from start to finish. Sometimes a full set of braces is needed from the get-go and other times, it's more appropriate to work in stages.
It's recommended that children receive their first orthodontic assessment around the ages of 7 or 8 years old. By this point, jaw and dental development is in full swing. The first batch of primary teeth have been replaced by permanent teeth and the first set of molars has erupted.
Using advanced imaging technology, we can chart your child's dental development to see if everything is proceeding as it should. If any problems are lurking on the horizon, now is an excellent time to identify them. Just as in many other cases, the earlier an orthodontic problem is identified, the better. More treatment options are available and treatment will often be simpler and faster.
Innovative Orthodontic Options
At Chatswood Dental Associates, we offer a number of different orthodontic and orthopaedic therapies in addition to conventional bracket-and-wire braces, to help your child develop a healthy and beautiful smile. Plus, we offer braces for adults, too!
Trainer for Kids – This appliance is worn like a mouth guard to help guide tooth eruption and correct habits like tongue thrusting.
Myofunctional Appliances – Combined with myofunctional exercises, these appliances come in sizes and styles that are appropriate for kids, teenagers and adults. Worn for about two hours each day and during sleep, Myofunctional Appliances actually help treat many of the problems that lead to crooked teeth without the need for braces.
Invisalign® – Invisalign is the clear aligner system that allows adults and teenagers to straighten their teeth without anyone noticing. The clear trays are made of translucent plastic that mould to the teeth and are virtually invisible when they're worn. We offer a range of clear aligner solutions.
What Orthodontic Treatment Is Right for Me?
Every orthodontic case is different. Getting a custom treatment plan will require a thorough assessment to determine your unique needs and the best course of action for your smile.
It's Never Too Late for a Straight Smile
Schedule a braces and orthodontics Chatswood consultation with Dr Lim or Dr Sridhar today!
* Any surgical or invasive procedure carries risks. Before proceeding, you should seek a second opinion from an appropriately qualified health practitioner.
---
Orthodontics Chatswood NSW | (02) 9412 4488