Veneers at Chatswood Dental Associates
Today, you have more options than ever when it comes to creating the smile you wish you had been born with. Porcelain veneers allow us to take years off your appearance by reshaping your teeth, improving their alignment and transforming their colour.
Veneers used to mean that healthy tooth structure had to be reduced to make them fit properly. But we offer special veneer designs that require minimal preparation, saving you time, preventing sensitivity and preserving your healthy tooth structure.
What Are Porcelain Veneers?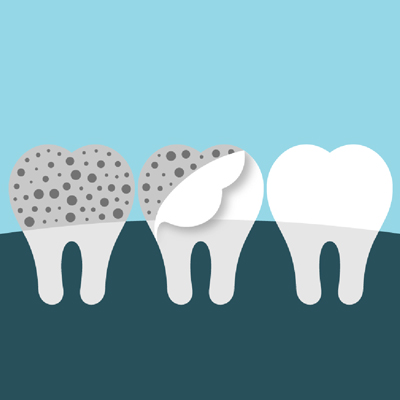 About half a millimetre thick, porcelain veneers are thin facings that are permanently bonded to the front surfaces of your teeth. With good home care and regular visits for cleanings and check-ups, veneers can last for 15 years or more. The dental-quality porcelain is resistant to stains, helping to prevent discolouration and keeping your smile looking great.
Once upon a time, veneers were the secret behind perfect celebrity smiles. Today, veneers are far more affordable, so just about anyone can have the smile they've always wanted. Our certified cosmetic dentists are able to create beautiful, natural-looking, whiter, straighter smiles – affordably.
Are Veneers Right for Me?
What do you have in mind for your teeth? Perhaps you have a clear image. Maybe you have a photo of a smile you love. Maybe you have an existing veneer that no longer looks the way it should. Or perhaps you want to turn back the clock and bring back your own grin from years past.
Our cosmetic dentist will work closely with you to discuss goals for your smile and create a transformation that's right for you. It's important to keep in mind details like the shape of your features, the size of your smile and even your skin tone to design restorations that will look natural.
Sometimes people know they need to make a change but aren't quite sure what they want. That's okay, too! When necessary, we can take an extra step to create temporary veneers to try out a new smile and determine if you like it. You'll get to see and feel what it's like to wear veneers, to help determine whether this option is right for you.
Before we provide any sort of aesthetic improvements to your smile, we'll want to make sure that your teeth and gums are free of disease. If you do have any cavities or gum disease, we'll need to help you resolve it before veneers can be placed.
Schedule Your Consultation
Request a consultation to find out if dental veneers Chatswood are right for you. Dr Lim or Dr Sridhar can help you decide the right approach to take for a smile you're proud of showing off.
* Any surgical or invasive procedure carries risks. Before proceeding, you should seek a second opinion from an appropriately qualified health practitioner.
---
Dental Veneers Chatswood NSW | (02) 9412 4488