Custom Mouthguards at
Chatswood Dental Associates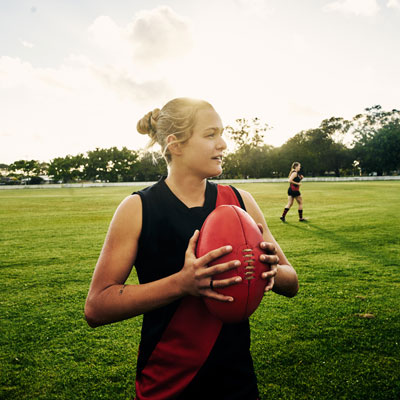 If you or your child plays sports, having a custom-fitted mouthguard to protect the teeth makes sense. You're more likely to get injured without a mouthguard, so many contact sports make it a requirement.
At
Chatswood Dental Associates
, our custom-fit mouthguards help keep your smile safe while active. The process is easy and more affordable than an emergency dental appointment!
Do I Need a Mouthguard?
A mouthguard protects your teeth and gums if you're struck in the face. It forms a protective layer over the upper teeth, reducing your risk of injury. Sports with more contact, like boxing or rugby, require protection for both upper and lower teeth to protect the jaw from injury.
If you have braces, we recommend a custom mouthguard to protect your teeth and prevent the wires and brackets from injuring the soft tissues in your mouth. We'll make sure the fit is just right, so it doesn't interfere with your orthodontics.
Choosing Your Mouthguard
The type of mouthguard depends on the age of the person and their level of activity. For younger children, we recommend a simple mouthguard, which allows them to get used to wearing one. As your child grows and becomes more active, the need for stronger mouthguard increases as well. We also offer a laminated mouthguard, which spreads the impact over several teeth rather than one, reducing the chance of breaking.
Growing children experience many changes in their teeth and jaw, which may alter the fit of the mouthguard. Our dentist should check the mouthguard annually for best fit.
What to Expect
When you come in, we'll take an optical 3-D scan of the jaw and send it digitally to the lab. It takes 1-2 weeks to make the mouthguard, depending on the type selected. When it comes back, the dentist will make sure the bite is right, and it's comfortable.
Book an Appointment Today
Protect your child's smile, and yours, with custom mouthguards. Call today to book a visit.
* Any surgical or invasive procedure carries risks. Before proceeding, you should seek a second opinion from an appropriately qualified health practitioner.
---
Custom Mouthguards Chatswood NSW | (02) 9412 4488